Night Shadows by Edward Hopper.
The black and white was made in 1924, and is probably most evocative of noir.
I think Raymond Chandler's High Window is the best of the detective novel.
Here are some quotations of his, if you're interested.
"Los Angeles was just a big dry sunny place with ugly homes and no style, but good-hearted and peaceful. It had the climate they yap about now. People used to sleep out on porches. Little groups who thought they were intellectual used to call it the Athens of America."
Here is the link. It's been a long time since they just reviewed the book and not the author.
The poem that most came to mind:
Acquainted with the Night
I have been one acquainted with the night.
I have walked out in rain—and back in rain.
I have outwalked the furthest city light.
I have looked down the saddest city lane.
I have passed by the watchman on his beat
And dropped my eyes, unwilling to explain.
I have stood still and stopped the sound of feet
When far away an interrupted cry
Came over houses from another street,
But not to call me back or say good-bye;
And further still at an unearthly height,
One luminary clock against the sky
Proclaimed the time was neither wrong nor right.
I have been one acquainted with the night.
—
As posted:
'Detroit Nocturne' found here. Via Mick Hartley.
I'm partial to 'Joey's Meatcutter Inn, Bar & Grill 2017':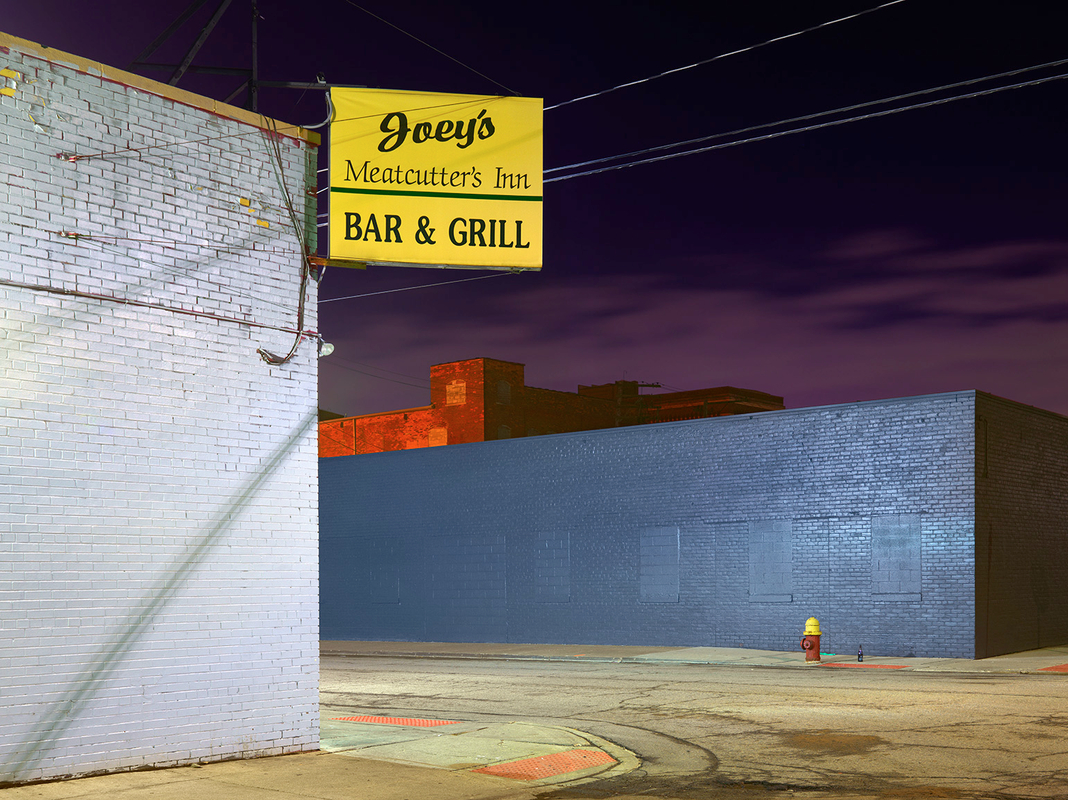 The lonely cityscape at night or the familiar glow of gas station lights cast into the American wilderness. The eye might want to linger among the colors, shapes and clouds even though the mind knows this is pretty much an empty street in a 'post-industrial' zone.